Profile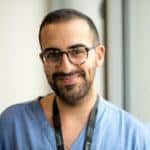 Alex Alamri
Getting ready to be on call in the hospital tomorrow for 24 hours!
Curriculum Vitae
Education:

St. George's, University of London

Qualifications:

MB BS, BSc, MRCS, PGCME, FHEA

Work History:

Lots of places including Addenbrooke's Hospital (Cambridge), King's College Hospital, The National Hospital for Neurology and Neurosurgery and currently the Royal London Hospital.

Current Job:

Neurosurgery registrar

Employer:
Favourite thing to do in my job: Get to spend time looking after really sick patients and also spend time with my amazing colleagues.

About Me

I'm passionate about what I do and care a lot about my friends and family. Most people say that I'm quite patient and that's probably my best quality.

Read more

I live with my wife, who is a GP, and my two year-old daughter at home. We don't have any pets but my parents-in-law do have a cute Chihuahua called Mylo. On evenings off we watch lots of different TV series and try to relax as much as possible after a long day.

My Work

I'm a neurosurgeon in training at The Royal London Hospital

My Typical Day

I'll either be with my boss, performing brain and spine surgery in the operating theatre, or in the neurosurgery clinic, or triaging neurosurgery emergencies from across North and East London.

Read more

I'm usually in the hospital by 8am where we have a team morning meeting. We discuss all of the emergency operations that happened over night and what things need to be done for those patients that day.

We then have a meeting with the ward nurses, physiotherapists and speech and language therapists to discuss how the patients on the ward are progressing.

After that we all split up and go and see our patients and troubleshoot whatever problems they may have.

On other days we will be performing surgery in the operating theatre. This usually starts at 0830 and we will be operating until the end of the day. Sometime we finish on time if we are lucky (usually about 6 or 7pm). Sometimes it can take much longer.

There are also other days when we will be in the neurosurgery clinic, seeing patients that GPs or other doctors would like us to see, for a specialist opinion.

Read more

I'd love to run a session for school kids to come and use some the tools that we use in the operating theatre, but on model skulls and brains! You would get to be a brain surgeon for the day!

My Interview

How would you describe yourself in 3 words?

Passionate, meticulous, caring

What's the best thing you've done in your career?

Saved someone's life with an emergency operation!

What or who inspired you to follow your career?

Some of the brain surgeons I met whilst at university (including Henry Marsh)!

What was your favourite subject at school?

Art

What did you want to be after you left school?

Artist

Were you ever in trouble at school?

A lot!

If you weren't doing this job, what would you choose instead?

Probably an artist or a writer

Who is your favourite singer or band?

That's a tough one...

What's your favourite food?

Burgers!

What is the most fun thing you've done?

Travelled around Japan on my own

If you had 3 wishes for yourself what would they be? - be honest!

1. To always be healthy, 2. To always be able to do what I love doing, 3. That my family always be happy.

Tell us a joke.

I can't, they're all too rude!
---
---